PrinTao 8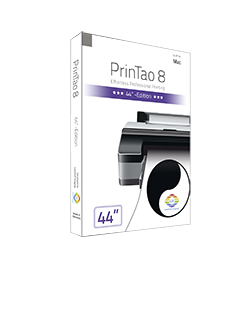 Create Realistic and Abstract Filters and Effects
Aimed at professional photographers and graphic designers, PrinTao 8 from LaserSoft Imaging is a new, Mac-only tool that's fine-tuned for optimized printing with a specific class of printers, and it can also save you paper and ink. The software exploits all the capabilities of the native printer driver, so when you use PrinTao 8, you don't have to first learn about RIPs, CMYK-to-RGB conversions, and other tasks that typically belong to PostScript/PDF printing.
To start, select your printer model, supported media, desired print quality, roll or cut sheet, and media size. When finished making your selections, you're taken to the work area with its media browser, main window, and tools sidebar. Here's where you'll select your images from the media browser or drag them from the Finder.
Templates come in multiple flavors. The Freeform template allows you to position the images the way you want. Other templates optimize media usage by calculating optimum size, placement, and rotation to fit all the images into as small a space as possible. There's also a template to match cut and roll sheets, and an interactive cutter allows you to decide where to cut a roll. Cutting can be at predefined locations, too.
You can edit images in various ways, which means you always have visual feedback for print quality and image position on the paper.
PrinTao 8 supports only a limited number of large-format Epson and Canon printers, the smallest of which is the Epson Stylus Photo R2880. Depending on printer class and maximum media size, prices range from $99 for the Home Edition to $699 for the 64″ Edition.
PrinTao 8 is continuously being updated and its rather poor metadata support should be improved by the time you're reading this.
Company: LaserSoft Imaging AG
Price: From $99
Web: www.printao8.com
Rating: 4.5
Hot: User-friendly; features; optimization algorithms
Not: Poor metadata support