Look Converter from Picture Instruments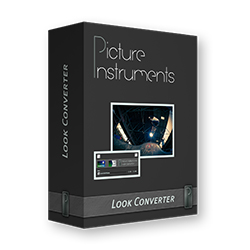 Create Your Own 3D LUTs in Photoshop
Picture Instruments recently released Look Converter to convert presets and looks from any image editor into 3D LUTs (lookup tables) so that you can use these looks in any application that supports 3D LUTs. You can use photos and footage to create your LUTs using a simple workflow that exports to the two file formats that Adobe Photoshop and most nonlinear editing systems can use.
Look Converter generates a JPEG, a neatly organized image of color patches that Look Converter calls the Neutral Filter. You use this intermediary file to create your adjustments. Say you want to use a particular look in Photoshop CS6 that you created from adjusting overall contrast, saturation, brightness, etc. in DxO Optics Pro, here's what you do:
• Open an image in DxO Optics Pro and apply your adjustments, then save the adjustments to a new preset.
• Open the Neutral Filter in DxO Optics Pro and apply the new preset, then save the Neutral Filter to new-filter.jpg (for example).
• Load the new-filter.jpg file in Look Converter, and click the 3D LUT button.
• Now, all you do is create a Color Lookup adjustment layer in Photoshop and load the 3D LUT you've just created.
Everything works as long as you can load the Neutral Filter JPEG into the program from where you want to grab your settings.
Look Converter also supports batch processing and exports to two 3D LUT formats, either of which is used by Adobe Final Cut Pro X, Apple Premiere Pro, DaVinci Resolve, etc. Its algorithm generates the smallest allowable cube size for accurate results, as the maximum 256x256x256 size would require too much GPU power and memory to work well.
Company: Picture Instruments UG
Price: $25
Web: www.picture-instruments.com
Rating: 5
Hot: Ease of use; creates two formats; inexpensive
Not: