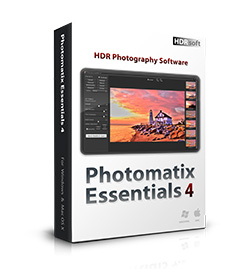 High Dynamic Range for Amateurs
Photomatix Essentials 4 is an entry-level, easy-to-use, standalone application to create HDR images. The adjustments are basic and more or less limited to selecting from the presets, which range from natural to artistic. The app is the amateur version of Photomatix Proâ"still by far the best HDR app on the market.
Photomatix Essentials allows you to merge to HDR and apply tone mapping. New features in version 4 include Exposure Fusion for more natural-looking images (you can automatically align handheld photos and remove ghosts), and Finishing Touch, which lets you add a bit of sharpness and has a button to start over again.
The startup screen of Photomatix Essentials 4 guides you through the workflow, giving you only a couple of options from which to choose. I tested it with three images, and opted for the full automatic workflow. In this mode, you can still adjust a couple of things, such as manual alignment, if necessary. Oddly enough, the startup screen doesn't mention that there's a limit of five photos you can use to create your HDR image with the Essentials version.
Photomatix Essentials lacks the ability to export true 32-bit HDR images, so all you can do is tone map the result to render on standard monitor screensâ"probably what most people will want to do.
HDRsoft masters tone mapping like no other, and it's not hard to quickly create a good-looking HDR image with Photomatix Essentials 4. The included Fusion/Natural algorithm ensures realism for most HDR images, but it lacks the Fusion/Real-Estate setting for natural rendering of indoor scenes with light shining through windows.
Using Photomatix Essentials 4, you can create faux-HDR images from one photo, but only the tone mapping settings will be available.
Company: HDRsoft
Price: $39
Web: www.hdrsoft.com
Rating: 5
Hot: Ease of use; useful presets; excellent for beginners
Not: