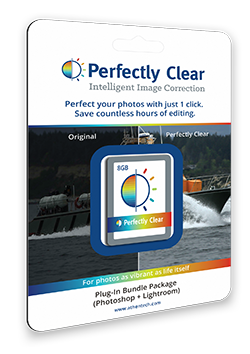 Photo Corrections the Easy Way
Athentech Imaging promises that with the Perfectly Clear 2 plug-in you can correct photos in much less time than it would take with Adobe Photoshop or Lightroom tools.
I tested Perfectly Clear 2 with Photoshop CS6, and it tackles problems mainly with portraits including: sharpness; noise; red-eye correction; exposure; skin shine, tint, and blemishes; dark circles; and teeth color. I had the impression Perfectly Clear is optimized for snapshots taken in Auto mode.
The Perfectly Clear plug-in for Photoshop and Lightroom has its own interface, showing the image on the left and presets and adjustment controls on the right. There's a group of eight presets that should cover most of the imperfections found in snapshots. The idea is to start with one of the presets and then click on the Adjust tab to make further refinements. That's a good way to work quickly through one or multiple images, and having only eight presets helps you decide which flaw in the photo is most critical.
The Portrait corrections in Perfectly Clear 2 work better and faster than Photoshop. The adjustment parameters, however, are fairly basic (except for portraits). Landscapes, architecture, and object photos can be corrected only with parameters such as Exposure, Depth (looked a lot like micro-contrast to me), Vibrancy, Fidelity, Tint Correction, Sharpening, and Noise.
I found terms used in the interface confusing; for example, what does Fidelity correct? It's said to restore full-color spectrum; but what does that mean with respect to, say, a Canon EOS D5?
Portrait-enhancement features that stood out were Catchlight, Blemish Removal, and Light Diffusion. Face Slimming did what it set out to do, but it can easily be overdone. Sharpening is subtle, with Perfectly Clear 2 using an algorithm that avoids artifacts even with the slider set at full strength.
Company: Athentech Imaging
Price: $149
Web: www.athentech.com
Rating: 4
Hot: Portrait tools; sharpening can't be overdone
Not: Some features only meaningful for low-end camera shots