Painting White Balance in Camera Raw to Fix Color Problems (or Add Effects)

Excerpt from The Adobe Photoshop CC Book for Digital Photographers (2014 Release) by Scott Kelby
Camera Raw lets us paint with white balance, and of all the things that have been added to Camera Raw over the years, believe it or not, this is one of the ones you'll probably wind up using the most. It's pretty common to have a natural light photo where part of the photo is in shadows, which usually means the parts in daylight have one color, and the parts in shadows are usually bluish (especially if you use Auto White Balance, which most of us do, because it works pretty well for most situations). Here's how to paint with white balance to make all the color in your image consistent:
Step One:
Here's a location portrait, where our subject has a nice warm skin tone (partially because I put an orange gel over the off-camera flash), but take a look at the background behind herâ"the buildings are in the shade and that makes them look blue (like it was taken at dawn), even though it was taken at sunset. If I try to warm up the white balance, she is going to turn really yellow. Luckily, now we can adjust the white balance in just one area.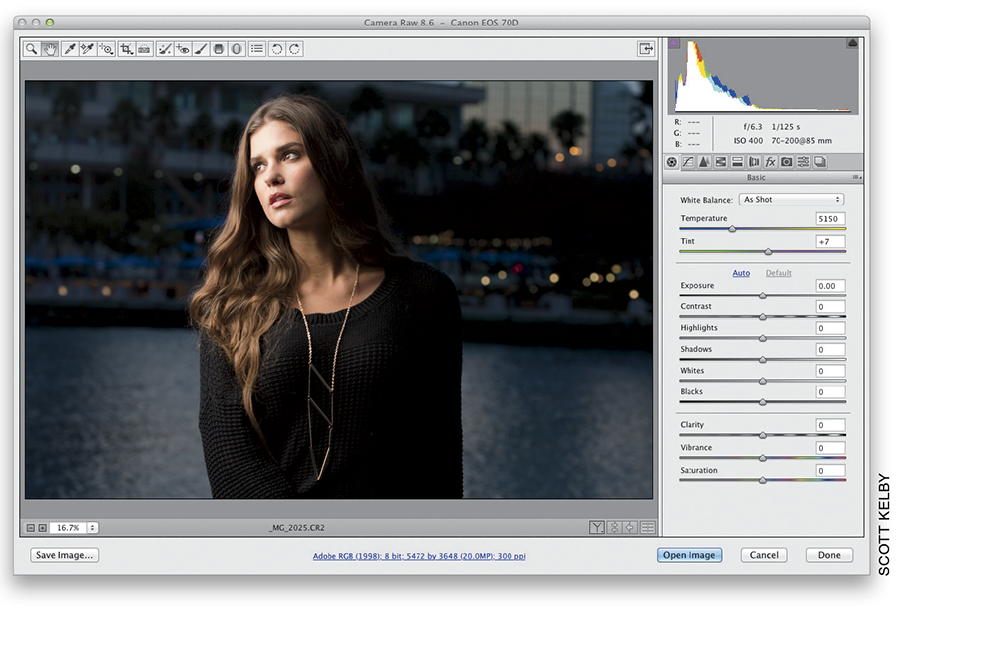 Step Two:
Get the Adjustment Brush (K), click on the + (plus sign) button to the right of Temperature (this resets all the other sliders to 0 and sets the Temperature to +25), and start painting over these bluish background areas (as shown here). Once you've painted over them, you can adjust the Temperature slider (drag to the right to warm up the color and make this area less blue, as I did here, or to the left if the default setting of +25 makes things too warm). This is the beauty of using the Adjustment Brush for thisâ"once you paint over the bluish area, you can "dial in" just the right amount of white balance correction by dragging the slider after you've painted. Now the buildings look more neutral, especially the mirrored building in the top right. I also increased the Highlights a bit to finish it up.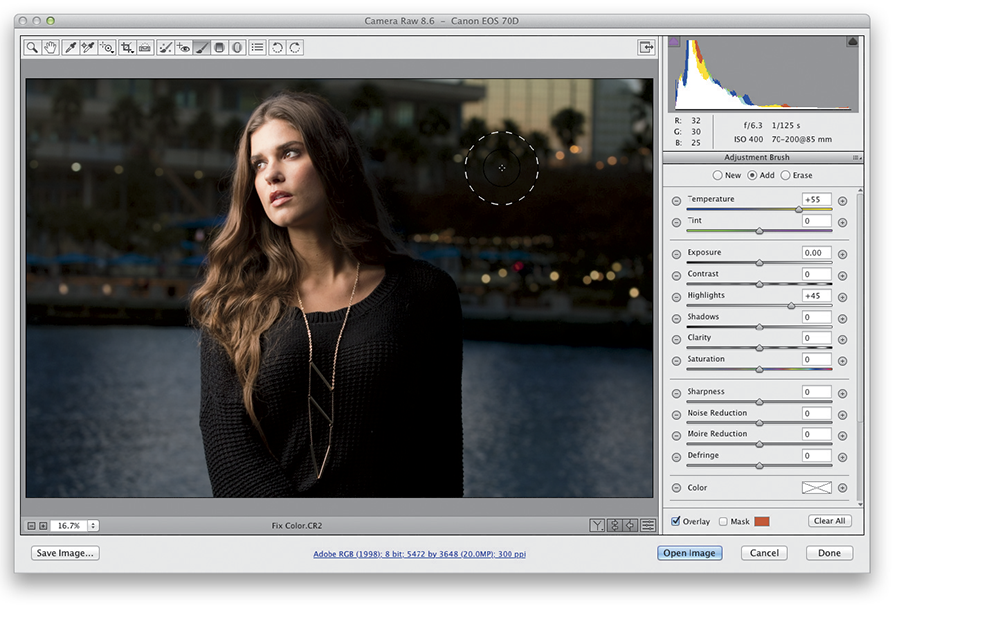 Learn how to do more in The Adobe Photoshop CC Book for Digital Photographers (2014 Release), or check out Scott Kelby's Camera Raw Basics class on KelbyOne.com!