Nomad Mini 2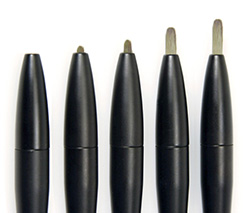 Paintbrush Stylus for Touchscreens
I love drawing on my iPad, but have a love-hate relationship with various styli on the market. Some have been great, others so-so, or even terrible, so when I found out that Nomad had a new brush stylus, I jumped at the chance to test it out.
Right off the bat, I liked the quality look and build of the small, retractable brush and smaller-than-normal rubber stylus of the Nomad Mini 2. It was great not to worry about the brush getting messed up when I'd throw it in my pocket and then, with a simple twist, I'm ready to paint. The Mini 2 is designed so that it's bigger and heavier on the brush side, making it more comfortable to hold than the rubber-tip side, which felt top-heavy.
How did this stylus work when tested? I like the idea of a smaller rubber tip so that you can see more precisely where you're drawing; however, the tip lost its effectiveness when held past a certain angle. In fact, I had to concentrate on keeping the stylus at a more straight-up-and-down angle to ensure that it would register my stroke. The tactile quality of the tip was very good, and it didn't skip or drag.
The Nomad Mini 2 brush handled well and, because of its smaller diameter, it was easier to see where you were painting. I enjoyed using this side of the Nomad quite a bit, with one caveat: When I made a quick brush stroke, it would only begin to make a mark a little after I started drawingâ"not a huge deal, but frustrating when trying to be really precise. Overall, I'd say that the Nomad Mini 2 is an okay device.
Company: Nomad Brush
Price: $35
Web: www.nomadbrush.com
Rating: 3
Hot: Creative option for the tablet artist
Not: Tilt angle; weight distribution a bit clunky