Hp Z23i 23″ Ips Display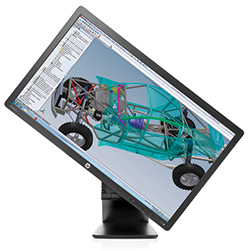 LED Backlit Monitor
Since displays are becoming even more affordable, there are only two things left for you to consider in making the best choice: accuracy and consistency. Many brands of monitors offer lots of features but, as we all know, it isn't always possible for lower-priced models to live up to our expectationsâ"until now. The HP Z23i 23″ IPS Display not only offers as many features as more expensive products, but it also does it with much less energy consumption, so you reap savings in the long term, as well.
The first thing you'll notice when you unpack the Z23i is its only minor hiccup, and that is unfolding the stand requires a fair amount of force. Yes, it feels solid, but there are no instructions as to how to unfold the base. Of course, this is a minor detail, as the rest of the setup is plug-and-play.
Once connected, the display's gorgeous color and contrast are immediately apparent. In fact, it's fun to pick random familiar images just to see how they'll appear on the HP Z23i Display. The 1920×1080 HD 16:9 resolution on the Z23i is enough for most viewing tasks; however, I did note that it delivers extremely accurate grayscale tones.
Once you calibrate the Z23i with either the HP DreamColor Advanced Profiling Solution (sold separately) or, as I used for this review, the SpyderElite, the value of this sub-$300 display will impress you. Between its nearly 180° viewing angle, tilt-and-swivel maneuverability, and integrated USB 2 hub, I think you'll find that the HP Z23i 23″ display is a great addition to any designer's desktop.
Company: Hewlett-Packard Development Company, L.P.
Price: $224
Web: www.hp.com
Rating: 5
Hot: Clarity; color; contrast; price; Energy Star compliant
Not: