Photoshop World 2012 Washington, D.C.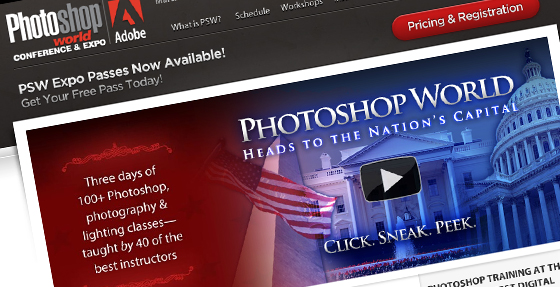 What up everyone? Corey here and I am so excited because the moment has finally arrived! Today we are off to Washington, DC for Photoshop World East 2012. This one promises to be extra exciting as we are in a new city for the first time in years. DC is prime for photo taking at every turn that I am even planning on going out and doing some shooting! Of course, if you have been to Photoshop World before then you know what to expect but we will also have some surprises this time around.
FREE EXPO PASS
If you are not attending the full-conference and want to get a taste of what goes on at Photoshop Worldthen you can get a free expo pass. The tech expo features soem of the most prominent names in the industry like Wacom, Adobe, MPIX, Epson, and so many more. Not to mention the loads of free expo classes taught by Photoshop World instructors. There is also, of course, the NAPP Bookstore where you can get the latest DVD training, books, and other merchandise. Click here to get yours!
You can also have the option of purchasing a one-day conference pass. Gives you full access to all sessions and expo for whichever day you choose excluding special events that require separate registration. Click here for more info!
DIGITAL WORKBOOK
If you have been to Photoshop World before then you know about the gigantic workbook. We affectionately refer to it as the phonebook. It contains the written notes for almost all of the sessions at Photoshop World. Even if you do not attend the conference this is one hell of a training manual to have. The problem is that who likes to carry that huge thing around. It can get heavy! So now we have made available digital versions of the workbook for smart phone and tablet devices using Zinio. The same app that we distribute the digital versions of Photoshop User magazine. So even if you like having the actual book, save it for later and use the digital version when following along in class. You must be a registered attendee to download. Click here to download now!
PHOTOSHOP WORLD APP
Speaking of mobile devices, we also have the PSW app available at the App Store.This convenient app let's you create customizable schedules with class reminders and maps, you can get news updates, and learn more about instructors and their classes. Click here to get the app now!
FOLLOW ON TWITTER
You can also stay up-to-date on the latest news, connect with other attendees, and share your experience on Twitter at #PSW12. Can also check out the PSW blog for updates and news during the event!
MORE SPECIAL EVENTS
Of course there is a lot of fun to be had at Photoshop World and in addition to the long list of training sessions with thesome of the most popular instructors in the world and the fabulous tech expo, there are also special events like the Portfolio reviews where you can have your work critiqued by a Photoshop World instructor one-on-one. The after hours party is always a blast and this time we see the return of Big Electric Cat. The Guru Awards are a favorite because it gives you the chance to see work by some talented attendees. the Art of Digital photography is panel of the world-class photographers like Joe McNally, Moose Peterson, Jay Maisel, and Dave Black share stories of inspiration and insights into how they work. Lastly one of my most favorite events at PSW is Midnight Madness. Always a blast! We have games, food, and fun but seating is limited! Check your show guide to find out how to get your ticket!
Well that is really just a brief overview of some of the things that make Photoshop World the most popular Photoshop events around and why it is not to be missed. If have not registered yet there is still time. See you in DC!