Lenovo ThinkPad W540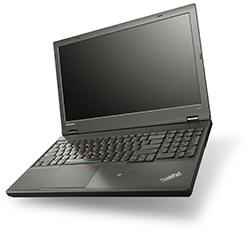 Thin, Light, Mobile Workstation
More and more, laptops are replacing desktops in the workplace and at home. Creative professionals are no exception, as we want to take our power on the go without having to work from a network or external drive. The ThinkPad W540 from Lenovo is bringing us to that point.
In a laptop, I need two things: horsepower and resolution. Horsepower's no problem, as the ThinkPad W540 that I tested came with an Intel Core i7-4800MQ (6 MB, up to 3.7 GHz) and 8GB RAM (upgradeable to 16 GB), and it ran effortlessly in all of the Adobe Creative Cloud programs. As far as screen resolution, I haven't found many laptops that can compete with the MacBook Pro in terms of the 60hz vs 120hz comparison; but I found it here with the ThinkPad's 15.5″, 3K (2880×1620), impressive display with integrated color calibrator. Couple that with the NVIDIA Quadro K2100M (2-GB GDDR5 VRAM), a 256-GB SSD drive, and we're cooking with gas! I imported an entire catalog from a shoot into Lightroom in the same time it took on my powerful desktop, and editing photos was a pleasure, as the display provided all the pixels I needed. It also rendered a video project quickly, and ran After Effects without bringing the laptop to its knees.
It also has a few bells and whistles: a modern Thunderbolt port (for data, displays, and multiple devices in a chain); two USB 2 and two USB 3 ports; and a card reader. An HDMI port would be nice, but you can use an adapter with the Thunderbolt connectionâ"cumbersome, but not a deal breaker.
At 5.5 lbs, the Lenovo ThinkPad W540 is easy to carry, and for the money, it's definitely worth consideration as a viable option for a desktop replacement, or for a user who needs portable power.
Company: Lenovo
Price: $2,260.05 (as tested)
Web: http://lenovo.com
Rating: 4.5
Hot: Display; NVIDIA card; Thunderbolt; USB ports
Not: Design is a bit dated; no HDMI port