Acer K272HUL Display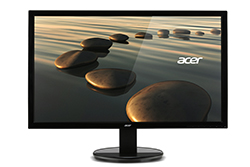 Budget Widescreen Monitor
The Acer 27″ widescreen K272HUL display offers lots of room with an impressive, sharp, native resolution of 2560×1440 in a 16:9 aspect ratio. It has abundant connectivity, built-in speakers, and a great price for people on a budget; however, a few conventional ergonomic features are missing.
A 3/4″ shiny black bezel frames the 27″ display. It has a five-button control panel at the bottom right, which is difficult to see because the black buttons are indistinguishable from the rest of the frame. The screen has a sturdy base; however, it only tilts back and forth. There's no swivel, no height adjustment, or ability to change orientation from landscape to portrait.
The control panel has some good basic features, such as sliders for adjusting brightness, contrast, and individual colors by saturation and hue; but none for adjusting color temperature. Instead, factory presets allow standard viewing of graphics and movies. Using DataColor's Spyder4 to calibrate the display, I got a decent response, but could only achieve 80% of the Adobe RGB color space. (This might be a deal breaker for demanding photographers and graphic artists who need a wider color space.)
Still, its large, LED backlit, non-glare screen has an impressive viewing angle of approximately 170°, making it ideal for viewing multiple documents or movies with friends. Its modest 60-Hz refresh rate should be fast enough for economic-minded gamers, as well. The display has most of the ports you'll need: two HDMI ports, two DisplayPorts, a DVI port, and audio jack.
The Acer K272HUL might not be ideal for photo editing but it's a terrific display for all-around use.
Company: Acer Inc.
Price: $399.99
Web: www.acer.com
Rating: 3.5
Hot: Inexpensive; wide screen
Not: Tilt-only screen; narrow color space; no USB ports