Free Creative Cloud Webcast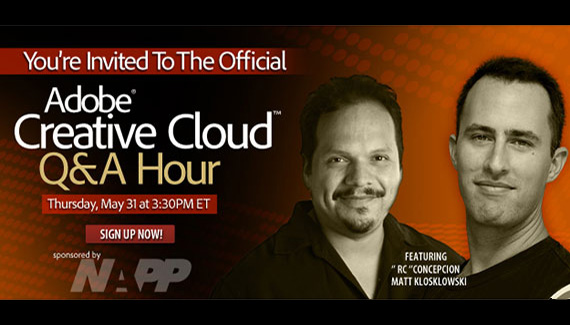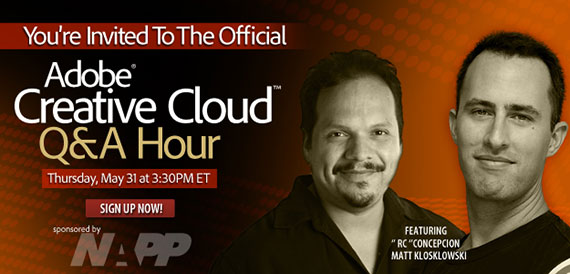 When NAPP hosted The 6 Days of Adobe Photoshop CS6 a few weeks back, we got a ton of questions about the Creative Cloudâ"¢. Now that the Photoshop Guys have had a chance to really dive into all that the Creative Cloud has to offer, we're going to host a live webcast and answer some of those burning questions.
Join Matt Kloskowski and "RC" Concepcion for the Official Adobe® Creative Cloudâ"¢ Q&A Hour on Thursday, May 31 at 3:30ET.
There will be a live blog so you can ask questions during the show. And as always, we'll highlight the features and tell you more about the nitty gritty stuff like software, updates, upgrades, file storage, subscriptions, access, and much more.
RSVP here and we'll send you an email reminder before the webcast plus you'll be registered for these cool prizes:
One-Year Subscription to the Adobe Creative Cloud
One-Year Membership to NAPP
$25 Gift Certificate to the NAPP Store
See on you Thursday the 31st at 3:30PM. And for those about to ask if it will be rebroadcast ⦠why yes, it will! But you have to be a NAPP member to get the rebroadcast over on the NAPP Member's website.