SmartAlbums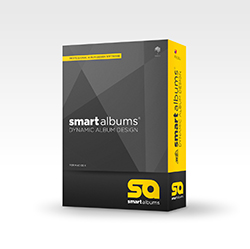 Album-Building Software for Mac
The album design software space is heating up. That's good news for photographers selling albums to clients and designers selling layouts to photographers. Whether you design your own albums or outsource your design work, tools that make the process easier and faster are always welcome. New kid on the block Pixellu is making waves with its currently Mac-only application SmartAlbums. If version 1 is any indication of this software, created for photographers by photographers, it's off to a great start.
The first thing you'll notice about SmartAlbum's is its clean, straightforward, and uncluttered interface. With presets for more than 50 album printing companies, you won't have to worry about things like bleed and trim. The ability to import TIFF, PSD, JPEG, and PNG files with full transparency support is a nice touch. Intuitive drag-and-drop design and Dynamic Album Design technology provides maximum flexibility for layouts, which automatically change on the fly as images are added or deleted. Adjust image scale, rotation, border thickness, and color using the straightforward set of image sliders.
SmartAlbum's Auto Sync feature automatically updates images appearing in a layout that have been edited externally. Right-clicking an image and selecting Edit in Photoshop opens the image, so desired adjustments can be made. Once saved in the same location as the original, Smart Album automatically updates the image.
A wide range of formats is supported. Users can export album designs as JPEG, PDF, layered PSD (compatible with any version of Photoshop), or InDesign IDML files.
While not as feature laden as their competition, SmartAlbums proves that, in this case, less is more.
Company: Pixellu
Price: $299
Web: www.pixellu.com
Rating: 4
Hot: Easy, fast album design; 30-day free trial
Not: Currently unavailable for PC users