Philips Brilliance 272P4 Monitor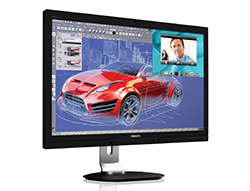 Professional LCD Display with Webcam and MultiView
Finding that perfect balance of quality, size, and price for a display can require jumping over a few hurdles, and although pricing has come down for some brands, it's still an all-or-nothing pursuit. The Philips Brilliance 272P4 LCD Monitor enters the race dressed up with a lot of impressive features that add value to the product, but the question of quality remains.
The 272P4 offers a lot of ports, and you can connect to the monitor with most video-connector cables, but not all are included in the box. For example, while there are two HDMI inputs and outputs, you'd need to add an HDMI-to-Thunderbolt cable for use with a more recent laptop. The 272P4 has MultiView capability for dual-computer connections simultaneously, and it also offers Multi Stream Transport (MST) Display Port technology if you have a DP1.2 graphics card with MST option. Like many newer displays, the 272P4 operates in landscape and portrait modes but, unfortunately, the display barely clears the base of the stand (even at its highest point), which makes it easy to scrape the base.
Although Philips includes quite a few extra features on the Brilliance 272P4, the quality suffers for it. The built-in stereo speakers distort and offer very poor sound qualityâ"even for voice reproductionâ"and the webcam image quality is poor, regardless of how much light is at your desk. As for actual image quality in video, the response seems a bit sluggish with some visible artifacts, and text tends to have some ghosting on both a MacBook Pro and a Mac Pro with an NVIDIA GTX 680 graphics card. In spite of all of its features, the Philips Brilliance 272P4 doesn't quite get over the hurdles in the race for display superiority.
Company: Koninklijke Philips N.V.
Price: $899.99
Web: www.filterforge.com
Rating: 2
Hot: Features; multiple ports for USB and video; ease of use
Not: Sluggish performance; poor text clarity; speaker sound; webcam