ScatterLight Lenses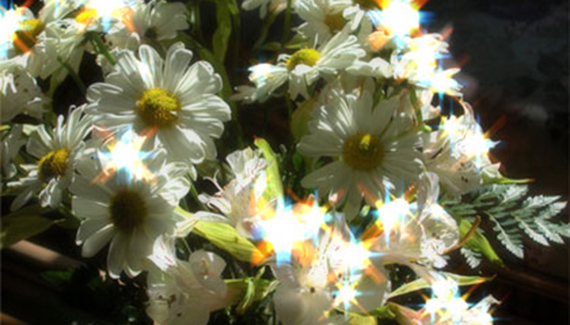 We spend hundreds and thousands of dollars to acquire the sharpest lenses possible.
But photographic tradition holds that "romantic" effects are best made with lenses that are less than sharp. Old timer "romantic" soft-focus tricks include nylon stockings stretched across the lens or a crumpled cellophane wiggled under an enlarger during exposure.
Cokin and other manufacturers have sold specialty filters for years: fog, star, haze, etc. Filters to decrease the sharpness of your lens.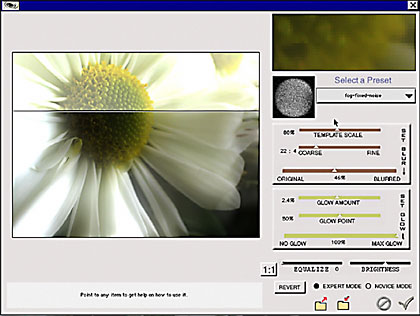 Andromeda has introduced a plug-in that will accomplish many of the same effects in Photoshop. Called ScatterLight Lensesâ"¢, the plug-in consists of five effects that add a number of soft-focus, haze, diffusion and star effects to images.
Portrait photographers will like the SoftFocus lens which approximates the results from an expensive specialty optic. I ran a medium halo optic on this portrait of a girl and her kitties on a separate layer, then used a soft eraser brush to bring out the detail in her eyes and those of the cats. In the darkroom, this would've been done with crumpled cellophane with a hole burned in it.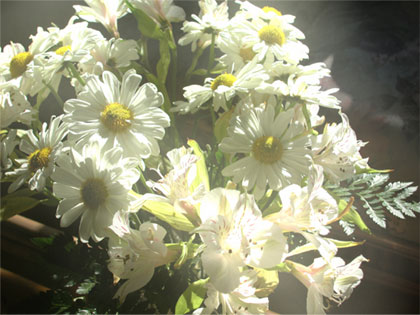 DreamOptic lenses added a soft glow to this still life of flowers. In a future column, I'll detail a technique for the same effect using only Photoshop 7 tools.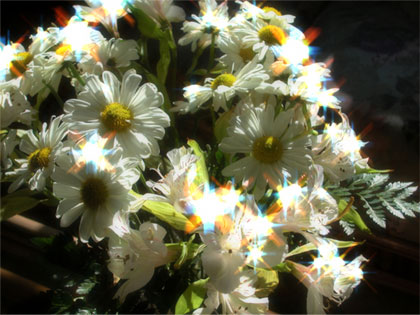 The StarLight lens works on highlight selections and is ideal for adding the star effects to night photos or special effects, such as the colored stars I've added to the bouquet.
One criticism I have of ScatterLight, it is extremely slow to show the effect in the preview window of the dialog box. Each time a setting is altered, the preview starts again from the top and plods its agonizing way to the bottom. Image processing is relatively quick once an effect has been selected.
ScatterLight lenses are available from www.andromeda.com for $98.00.