PercepTool 3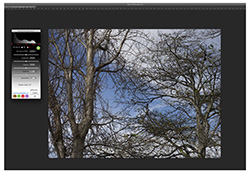 Perceptual Effect and Tone Mapping Plug-In
If you squint when you take a picture of a sunlit white house, your print of that house should convey that original experience. Ansel Adams called the anticipation previsualization. George DeWolfe, developer of the PercepTool 3 Photoshop CS5-CC plug-in, says that PercepTool 3 "â¦performs perceptual effect and tone mapping operationsâ¦" and "â¦mimics the visual luminosity cortex of your brain and your original perception." At first, this sounded a bit esoteric and impenetrable to me; however, some images I processed using the PercepTool filters resulted in a dimensionality and luminosity of the original scene that isn't readily available in either Photoshop or Lightroom.
Working with the nine filters individually or in combination gives us a process for re-creating that original perception of light. The 47-page instruction manual is comprehensive, well written, and illustrates the process for each filter. It's best used while simultaneously working with your images. A help guide is also available within each filter. PercepTool works on both color and black-and-white files.
The filters cover a broad range including HDR, fine detail enhancement, tone mapping, and global and local adjustments for sharpening and blurring images to create a sense of depth. The HDR filter is especially good at giving landscapes a very natural, realistic look. Most filters have multiple adjustment sliders and, depending on file size, processing an adjustment to a slider can be slow and at times inhibit the creative process. I found the best workflow is to pick and fine-tune one of the included presets, then name and save a custom preset for later use. Results from each filter are placed on their own layers. Download the trial. PercepTool is worth looking into.
Company: George DeWolfe
Price: $89.95 (Upgrade: $49.95)
Web: http://georgedewolfe.com
Rating: 4.5
Hot: Results
Not: Slow processing times