Blinkbid 7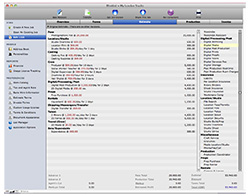 Easy Bids and Invoices for Creative Professionals
Nothing beats tools designed by photographers for photographers, and Blinkbid is at the top of that list. Photographer Lou Lesko designed Blinkbid to help other creative professionals simplify and streamline the often dizzying process of creating bids and invoicing for jobs. Now at version 7, Blinkbid has added a slew of new features, such as discounts on estimates and an easier-to-use Production Module.
Blinkbid is so easy to use that you can create your first bid in minutes, yet it's powerful and flexible enough to customize for your specific business needs. New Blinkbid users will appreciate the sample Groovy Agency bid that's included to familiarize them with bid components and get them quickly up to speed creating their own bids. Who doesn't love the Groovy Agency?
Knowing how to create a bid is one thing, but knowing what to charge is another. Blinkbid's built-in Bid Consultant pulls from a database containing two years of average national fees charged for different photography jobs. This rate information is automatically updated every month, assuring consistently accurate rate information. The Bid Consultant functions like a wizard, asking questions such as usage, client category, license length, number of final images, etc. Once the Bid Consultant has all the information it needs, clicking the Calculate button quickly returns a base fee range for that type of job. Brilliant!
Personalities is another extremely useful feature for users who manage multiple brands, say weddings on weekends and commercial work during the week. You can create a separate Personality (category) for each line of business and separately bid, invoice, and track financials for each.
With a ton of robust features, clean interface, and supersimple bid creation, Blinkbid helps you get back to business. A free 14-day trial is available for Mac and Windows.
Company: Blinkbid, LLC
Price: $229 (Upgrade: $89)
Web: www.blinkbid.com
Rating: 5
Hot: Straightforward; easy bidding and invoicing; helpful pricing guide
Not: