Bert Monroy's Times Square


Just a couple weeks ago, my good friend Bert Monroy unveiled his latest digital painting at the PhotoPlus Conference in New York City. This digital painting, which is 100% illustrated from scratch using Illustrator and Photoshop, is a whopping 5 foot tall by 25 feet wide. Bert spent the better part of 4 years completing this project and contains a cumulative total of 500,000 layers with the final flattened file a staggering 6.52GB. I remember him showing me early concepts at Photoshop World a few years ago and was visiting him at his studio just a year ago and it was amazing to see the progression from idea to final project. It's like waiting for a feature film to be produced and getting a sneak peek here and there. This is the most ambitious project that Bert has ever taken on and I am sure you will agree it is quite impressive.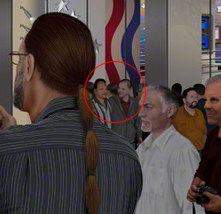 What's also very cool is that I am in the painting. Bert decided to populate the painting with family, friends, and people he has worked with throughout the years. You can see RC and I right there between Bert and Johnny L. of Adobe. Click here to go to Bert's site and see the painting up close. See if you can find the rest of the Photoshop Guys and maybe a few other people you might recognize. Congrats to Bert for taking on such a monumental task and delivering it in a way only he can.