Sound Forge Pro Mac 2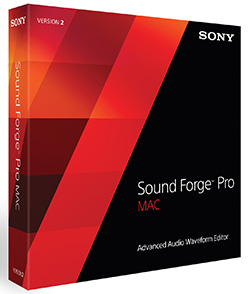 Sound Editing for Video Enthusiasts
Sony's Sound Forge Pro Mac 2 sound editor was released in February, and it has impressive sound codec support, including FLAC and MP4 video. Other improved features include an Auto Trim/Crop tool, a Volume plug-in, broadcast CALM loudness compliant metering, Event Mode improvements, and a new iZotope plug-in (Nectar Elements). Also brand new is the Convrt Batch Processing Automation Tool, which is a separate batch app.
A Sony representative once told me the biggest difference between amateur video and a professional movie is the quality of the sound. Even with a R˜DE NTG3 shotgun microphone, your sound recording may not be exactly perfect without some serious editing. In addition, most video can be made a lot more appealing by adding sound effects and music. Sony's sound editor allows you to manipulate sound and audio like nothing else that currently exists on the Mac OS X platform.
There are two versions to buy. The app by itself comes with 200 Blastwave FX sound effects. Buying the Audio Master Suite for Mac also gets you SpectraLayers Pro 2 and 25 great-sounding Production Music tracks to download for free. The latter are high-quality 10-, 30-, and 60-second clips, as well as the full-length audio tracks for use with cinematic and other video projects.
Given its sound-editing capabilities that fit in well with video enhancement, it's a pity Sound Forge Pro Mac 2 won't yet allow you to play your video in the app itself, although it does enable you to set its tim-ing to SMPTE video formats, including 24 frames per second film sync, and NTSC and PAL TV formats.
For broadcasting, new loudness meters allow companies and producers to comply with the Commercial Advertisement Loudness Mitigation Act (CALM). FLAC and CAF file format support is a boon. Auto trimming and cropping and sound volume processing are extremely useful for voice-overs and come with customizable fade-in/-out settings. The iZotope Nectar Elements plug-in allows you to optimizeâ"or play withâ"vocal sounds with the well-known iZotope quality and ease of use, which is great for sprucing up voice recordings.
In Event Mode, you can work with parts, or events, of your sound file nondestructively. This mode has been improved in that you can now easily convert regionsâ"selected sound snippetsâ"to events. The snap-to behavior that you can turn on makes processing easier and faster with less retries. What's even better is that you can lock markers, region markers, and envelope points to events, as well. If you're in Event Mode and you drag an event to another location on the timeline, you can now drag all those markers and envelope points with it, which saves a lot of time and aggravation.
Finally, Sound Forge Pro Mac 2 now has a customizable toolbar. This version also comes with an assistant app, the Convert Batch Processing Automation Tool. This app converts most known sound file formats and allows you to set metadata and use filters in the process.
Sound Forge Pro Mac 2 is, in my opinion, the best sound editor currently available for the Mac. It's ex-tremely powerful and has features that set it apart from all others.
Company: Sony Creative Software
Price: $299.95; Audio Master Suite: $499.95
Web: www.sonycreativesoftware.com
Rating: 4.5
Hot: Nondestructive editing; CALM metering; 192 kHz, 64-bit capability
Not: Can't view video in app; no Final Cut Pro X XML support