Fundy Designer with Album Builder 6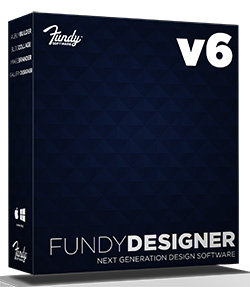 A Quantum Leap Forward
Thanks to Fundy Album Builder 6, photo album design will never be the same. After five iterations, Fundy has left the Photoshop panel nest and become a robust, stand-alone application with game-changing Drop Zone technology that takes 30 years of old-school album design practices and turns them on their head. Drop Zones are essentially free-floating image containers that can be dynamically resized, allowing endless custom designs in a matter of seconds. This flexibility and fluidity make the design process intuitive and rapid.
Album Builder 6 represents a quantum leap forward in design freedom, speed, and flexibility. Until now, album-design software has required selecting templates containing a series of predefined image openings, such as two horizontals, one vertical, and so on. The problem with this arrangement is that finding a template that's even close to a good fit is not only time-consuming, but images are forced to adapt to the layout rather than images dictating the layout. Album Builder 6's Drop Zone technology changes all that by replacing an incredible 12 million templates with prebuilt designs and enables unlimited custom designs. Users have access to built-in album sizes from 58 of the industry's top album companies.
Album Builder 6's paradigm shift is the use of the layout Drop Zones that dynamically adapt to your image additions and deletions on the fly and make drag-and-drop designing a snap. During import into Album Builder 6, images are converted into small proxies linked to their original high-resolution counterparts (similar to smart previews in Lightroom 5). Proxies not only keep the Album Builder 6 design environment light and nimble, but also allow an entire album to be designed without the original photos presentâ"prefect when working remotely.
Album Builder 6 has three main workspaces: Planner View, the Quick Design Picker, and Designer View. Initial layouts are created in Planner View via the new drag-and-drop interface. Planner View also provides a bird's-eye view of your entire design and allows images to be dragged-and-dropped from one spread to another. Spreads in Planner View each have a flyout menu of buttons along their right side to control the way images are handled by the Drop Zone they're in.
When the overall album design is complete, users have access to another Album Builder 6 firstâ"the Shuffle Design button. Clicking this button in Planner View (the intersecting arrows button on the Spread flyout menu) shuffles or remixes the design by pulling from 12 million possible layouts. If you'd like to see even more design options at the same time, clicking the Quick Design Picker button (the grid icon on the Spread flyout menu) opens the Quick Design Picker screen and displays a 12-up view of different layout choices. This screen also contains a Shuffle Design button and Flip Design button that can be used to remix each of the 12 layouts at once, providing an infinite number of layout choices.
The real magic happens when exploring the custom use of Drop Zones in Designer View. Designer View is also where you'll find the Micro Controls over each image contained in a spread's Drop Zone. Controls include cropping, built-in black-and-white and sepia conversions, access to external editors, and many others. The use of linked proxy images also makes must-have features such as batch exporting, batch processing, and reimporting linked images easy. The dynamic nature of Drop Zones also means a square album layout can instantly be repurposed into a vertical album layout with the click of a button. Fundy Direct, coming this September, will allow users to send albums to print with companies such as Black River Imaging, Miller's, Renaissance, Nations Photo Lab, ProDPI, Finao, Bay Photo, and many others.
Company: Fundy Software
Price: $329
Web: www.fundysoftware.com
Rating: 5
Hot: Drop Zone technology takes album design to the next level
Not: